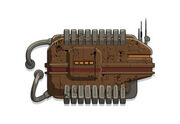 Among the Dozer crew assembled for the dangerous journey are a number of brilliant scientists and gifted engineers. These talented individuals can take the ancient devices or discarded technologies discovered in the wasteland, and restore or transform them into useful enhancements that can be installed on the Dozer. These upgrades can create significant advantages on the battlefield! Dozer upgrades can be purchased, installed or fixed in various depots and salvage yards found in Bedlam. These traders, hustlers and hoarders of the wasteland will demand a certain amount of your meat, metal or crude as payment to carry out your request and prepare the Dozer! Before a battle ensues, you must determine which Dozer upgrades are active, thereby making them available as an option during combat. Each upgrade you have installed is physically represented by a different 'module' on the side of your Dozer (image examples below). The upgrades can be used once per battle, so your selection and timing are critical to success!
There are also other upgrades, which cost 10 power cells each, in 4 different upgrade trees with 5 levels each. They increase you food, crude, and healing effeciancy, along with decreasing the power cells needed for weapons and equalizers.
Ad blocker interference detected!
Wikia is a free-to-use site that makes money from advertising. We have a modified experience for viewers using ad blockers

Wikia is not accessible if you've made further modifications. Remove the custom ad blocker rule(s) and the page will load as expected.