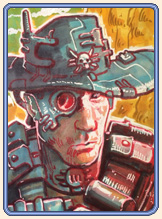 Once loyal to no one and suspicious of everyone, former heist mastermind Djapple (the 'D' is silent) spent years hidden in the underbelly of Bysantine – with one of the largest bounties ever recorded on his head. As the years and ever-increasing bounty passed on, so did the accusers. Now presumed dead after remaining at large for so long, Djapple is taking advantage of his new-found freedom (and desire for riches) by accepting risky contract work to fulfill an urge to relive his glory days. His lateral thinking and bravado under fire make him a highly valued crew member.
Ad blocker interference detected!
Wikia is a free-to-use site that makes money from advertising. We have a modified experience for viewers using ad blockers

Wikia is not accessible if you've made further modifications. Remove the custom ad blocker rule(s) and the page will load as expected.