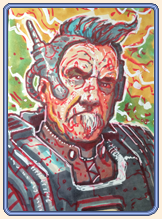 Despite being a vegetarian, Dass is known for his artistically carved organic and synthetic meat-forms at fair prices. He perfected his skills running a successful floater-shop in various districts of Bysantine — a business that also secretly served as a front for his mercenary team, specializing in edged and blunt hand-weapons. His implements of choice are a custom double-bladed cleaver he has dubbed "Piece Maker", and an oversized tenderizer called "Man-Masher". As part of the Dozer crew, Dass offers his many kitchen talents to help feed the occupants, as well as defending them from attackers to ensure things keep a-cookin'!
Ad blocker interference detected!
Wikia is a free-to-use site that makes money from advertising. We have a modified experience for viewers using ad blockers

Wikia is not accessible if you've made further modifications. Remove the custom ad blocker rule(s) and the page will load as expected.