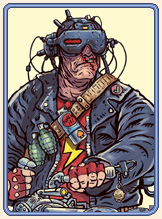 Some Bedlam inhabitants "go borg" by incorporating discarded technology and warware to their bodies for tactical and/or survival advantages, or in service to one of the "Machine Gods" they worship. Plenty of creative bodmod surgeons can always be found in Bedlam, experimenting on denizens with all sorts of biomachinery, genetic adjustments and paramilitary prosthetics. Cyborgs generally swear no obedience to pure-fleshers, but can prove to be powerful allies if persuaded.
Cyborgs are very strong, but lose one health per turn, so the most useful elite unit that is cyborg that you can get is a frontliner
Ad blocker interference detected!
Wikia is a free-to-use site that makes money from advertising. We have a modified experience for viewers using ad blockers

Wikia is not accessible if you've made further modifications. Remove the custom ad blocker rule(s) and the page will load as expected.